Une bouillabaisse sur écu
Dans son ouvrage
Traité d'art héraldique
(1919, p. 174), Victor Morin critique sans ménagement l'écu du Dominion qui présente une mosaïque d'armes des provinces et territoires dont plusieurs dérivent de sceaux ou sont des créations d'amateurs. « Ce n'est plus du blason, cela tourne au dévergondage » dit-il. Il y voit des paysages au lieu de compositions héraldiques, « plutôt des tableaux que des armes », qui incluent « des marines, des plaines des neiges éternelles et même un coucher de soleil ». En plus, il souligne que la quantité imposante de « gibier de tous poils » peuvent faire la joie du chasseur et le nombre de plantes celle du botaniste. Du poisson, des céréales et des bâtiments (dans le sens de navires) côtoient des pièces héraldiques, selon ses mots : « distribués dans une orgie de couleurs ». « Pour abréger, on serait tenté de réunir cela tout ensemble et blasonner simplement :
D'arc-en-ciel à une bouillabaisse du même.
» Il s'indigne que « Depuis cinquante ans … nous badigeonnons ce chromo en variant les dessins et couleurs » et juge que le temps est venu de doter le pays d'armoires « dignes du rang qu'il est appelé à occuper dans le concert des nations ».
Écu du Dominion vers 1905, du genre que Morin déplorait.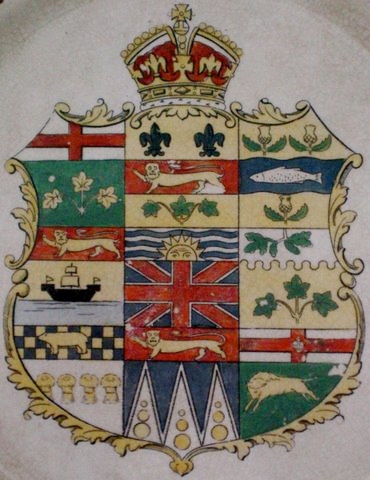 Shield of the Dominion c. 1905, of the type that Morin condemned.
A Bouillabaisse on a Shield
Victor Morin's work
Traité d'art héraldique
(1919, p. 174), contains a powerful diatribe against the Dominion shield which is composed of the quartered armorial devices of provinces and territories, some official, others derived from seals or designed by amateurs. He is shocked by the complexity of this heraldically faulty mosaic which reflects unbridled license. He notes that many of the quarters are not arms at all but scenery that include seascapes, plains, eternal snows and even sunsets. He mocks the quantity of game and plants that would delight both the hunter and botanist. Fish, cereal, ships and heraldic figures, he notes, are jumbled together in "an orgy of colours." His proposed blazon for this aggregate is scathing:
rainbow a bouillabaisse of the last.
He pleads that, after 50 years of revamping this patchwork of colours and designs, the time has come for Canadians to seek armorial bearings worthy of the rank that their country will eventually occupy among the nations of the world.