The Arms of a Little-known Navigator
Captain William Christopher, commander of many Hudson's Bay Company ships from c. 1756 to 1788, was born in County Durham (England) in 1734 and died there in 1797. His arms are blazoned:
Per chevron wavy Azure and Erminois, a chart of Chesterfield's Inlet, proper between two estoiles in chief Argent and on a mount in base Vert a beaver passant proper;
crest:
On a wreath two arms embowed, vested Azure, the hands proper supporting an anchor erect Sable, cable Argent
. The composition reflects the life story of Captain Christopher. The chart refers to his exploration of Chesterfield Inlet (Nunavut) in 1762, all the way up to a large lake, which he named Baker Lake after Sir William Baker, governor of the Hudson's Bay Company. The symbolism of the silver
estoiles
on a blue field and the wavy division in chevron are no doubt linked to navigation and exploration as are the two arms and anchor in the crest along with the motto
Arte conservatus
(Preserved by skill). The
erminois
(a heraldic fur) in base and the beaver obviously refer to the fur trade and the Hudson's Bay Company, and the gold background, on which the black ermine spots appear, may well signify the wealth derived from that trade.
Arms of Captain William Christopher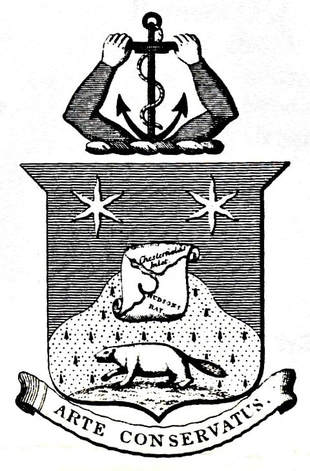 Armoiries du capitaine William Christopher
​

Les armes d'un navigateur peu connu
William Christopher, capitaine de nombreux bateaux de la Compagnie de la baie d'Hudson de 1756 environ à 1788, est né dans le comté de Durham (Angleterre) en 1734 et y est décédé en 1797. Ses armoiries se blasonnent :
Coupé-ondé
en chevron d'azur sur herminais à la carte de l'inlet Chesterfield
au naturel brochante sur le coupé, accompagnée en chef de deux étoiles flamboyantes à six raies d'argent et en pointe d'un castor passant au naturel sur une terrasse de sinople;
cimier (sur un bourrelet) :
deux bras de carnation vêtus d'azur tenant une ancre de sable, sa gumène d'argent
. Les symboles reflètent l'occupation et les exploits du capitaine Christopher. La carte montre l'inlet Chesterfield (Nunavut) qu'il explora en 1762 jusqu'à un grand lac qu'il nomma lac Baker en l'honneur de sir William Baker, gouverneur de la Compagnie de la baie d'Hudson. Les étoiles flamboyantes argentées sur un fond bleu et la ligne de partition ondée en chevron symbolisent sans doute la navigation et les explorations du capitaine come aussi les deux bras et l'ancre du cimier et la devise
Arte conservatus
(Sauvé par l'habileté). L'
herminais
(une fourrure héraldique) en pointe de l'écu et le castor représentent évidemment la traite des fourrures et la Compagnie de la baie d'Hudson, et il est plausible que le fond d'or parsemé de mouchetures d'hermine noires, symbolise la richesse provenant de ce commerce.