PERLEY, Sir George Halsey (1857-1938)

As High commissioner for Canada to the United Kingdom, he discussed the design of proper arms for Canada with both Rudyard KIPLING and Thomas MULVEY.

Ref: See entry for Rudyard Kipling.

PIRIE-GORDON, Charles Harry Clinton (1883-1969)

A journalist, naval intelligence officer, and genealogist, he was editor of Burke's Landed Gentry from 1930 to 1936. In 1919, he proposed a design for the arms of Canada, an order for Canada named The Royal Canadian Order of St. Lawrence and an Office of Arms for Canada. The arms for Canada combined the maple leaf with the arms of France, England, Scotland and Ireland, the whole surrounded by the collar of the proposed order. For the collar of the order, he proposed a cross, and a star which combined in various ways the arms of the provinces (the older arms of Nova Scotia), the effigy of the king, the gridiron of St. Lawrence, the maple leaf badge, and the proposed arms for Canada. The Order of St. Lawrence was not new. It had been proposed by Viscount Monck in 1866 and would be revived later by Vincent Massey. Of greater interest was his proposal of a Canadian Office of Arms. The head of the office would be St. Lawrence King of Arms who would also be the officer of arms of the proposed order. His staff would include a herald, a herald painter, "and one or more Pursuivants whose appointment would be honorary."

Ref: LAC, RG 6, A1, vol. 210, file 1156-1919, part 3. Pirie-Gordon's proposal is attached to a letter he wrote Sir George Perley, May 15, 1919. For more details regarding the Order of St. Lawrence, see Christopher McCreery, The Order of Canada (University of Toronto Press, 2005, p. 9, 59, 93, 96-100, 115, 183, 287 n. 343.

POPE, Sir Joseph (1854-1926)

Born in Charlottetown Prince Edward Island, he was under-secretary of state from 1896 to 1904 and under secretary of state for External Affairs from 1909 to 1926. In 1904, he was responsible for replacing the Canadian Red Ensign on government buildings by the Union Flag (Jack), which was approved to fly on land.* He promoted the idea that the governor general and the lieutenant governors should fly the Union Flag from their respective residences because their flags had been approved for use on water only, when embarked on boats or vessels. Before 1905, only Ontario, Quebec, Nova Scotia and New Brunswick possessed officially granted arms. From 1905 to 1907, Pope laboured to endow the rest of the Canadian provinces with proper grants, namely: Prince Edward Island, British Columbia, Manitoba, Alberta and Saskatchewan. He was by no means a heraldic expert, but firmly believed that the arms of the provinces should be properly conceived and duly granted. He was at first reluctant to promote arms for Canada because he thought that the country had been granted proper arms in 1868, the only problem being that other provincial and territorial arms were added to the shield of the arms of the four original provinces, though never granted. In 1904, in an effort to promote proper usage, he published a colour print of the four province arms with the title: "Armorial Bearings of the Dominion of Canada Authorized by Royal Warrant 26th May 1868."** By the time he served on the arms committee created in 1919, he knew that Canada had not been granted arms in 1868 and endorsed the idea that the arms of the country should not just be "an aggregation of the Arms of the Provinces". As a member of the committee, he strongly advocated that the Canada's arms should be royal arms, in spite of Garter King of Arms' objection that the composition of the royal arms had been determined by the proclamation of 1801 creating the United Kingdom of Great Britain and Ireland. Creating new royal arms would conflict with the proclamation. The problem was solved by making the grant the object of a new royal proclamation.***

Ref: *LAC, MG 30, E 86, vol. 13, 16G, Pope to A. Gobeil, Deputy Minister of Public Works, 26 Jan. 1904; George F. Stanley, The Story of Canada's Flag: A Historic Sketch (Toronto: McGraw-Hill Ryerson, 1972), p. 30; **LAC, RG 30, E 86, vol. 129, file 89; LAC, MG 30, E 86, vol. 22, no. 368, Pope to Barlow Cumberland, 24 May 1909. A preliminary drawing sent to Pope in 1903 bore the inscription: "I hereby certify that the above are the arms of the Dominion of Canada as recorded in the College of Arms London – College of Arms – 5 February 1903 – A.S. Scott-Gatty – York Herald-Acting Registrar."; ***LAC, RG 6, A1, vol. 210, file 1156, part 1, p. 43-45. Report of Committee, n.d.; Maurice Pope, ed. & comp., Public Servant, the Memoirs of Sir Joseph Pope (Toronto: Oxford University Press, 1960), p. 282-83: Swan, Canada Symbols Sovereignty (Bibliog.) p. 62-64; Sir Joseph Pope, The Flag of Canada, 2d ed. (Published by the author,1912).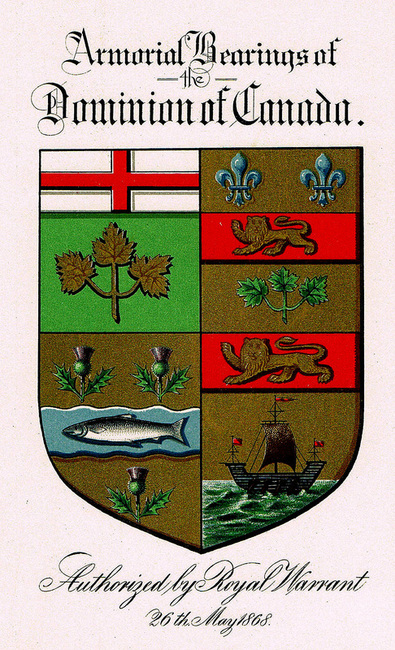 The royal warrant of 1868 authorized the four-province arms to be used as a common seal for the confederated provinces. Pope had this illustration printed thinking they were the authorized arms of Canada that were rendered invalid by adding new elements to the shield whenever new provinces joined Confederation. He later abandoned this notion and sought a proper grant of arms for Canada. Property of A. & P. Vachon.



PRICE, Art (Arthur Donald Price) (1918-2008)

Born in Edmonton, Alberta, he was a remarkably versatile and imaginative artist who worked in many media. In 1953, he carved a large replica of the arms of Canada in wood and other First Nation symbols to decorate Jasper Park Lodge in Alberta. In 1954, he began casting in aluminum, iron and bronze, which was an ideal medium for representing large-size coats of arms in front of buildings. Four years later, he put his new techniques to work when commissioned to replicate the arms of the City of Ottawa for installation in front of its new city hall. He cast a large number of components separately, creating some of the moulds by carving the concave shapes directly into baked sand blocks. Then he tackled the meticulous task of assembling the separate castings into a coherent whole. He also cast, in several pieces, large coats of arms of Canada for installation in front of post offices and made large replicas of some of Canada's Great Seals for decorative purposes.

For some years Governor General Jules Léger had contemplated a portrait gallery of the governors of Canada going back to New France. Since there were no known portraits for a number of early governors, he finally opted for a panel displaying their individual arms. The architect Eric Arthur designed the panel, Auguste Vachon researched the arms, and Art Price did the art work on commission from Public Works. This work was diametrically opposed to the large armorial castings Price had made earlier. He worked on very small pre-cut shields, and painted in miniature some extremely complex arms such as those of the British governors Dufferin, Landsdowne, Minto, and Connaught and Strathearn. He was also required to cut out minute shapes in Bristol board to create various intricate levels of relief. He seemed to enjoy working out the complexities of these puzzles.

In 1959, the ten beasts representing the important houses of the lineage of Queen Elizabeth II at her coronation were given to Canada, as the senior Dominion. The plaster-cast beasts were displayed in various Canadian buildings, but were for long periods kept in warehouses where they deteriorated. In 1977, Price took on the task of restoring them, and they now seem to have found a permanent home in the Canadian Museum of Civilization. The casting of large coats of arms in metal was also a specialty of Hans Gottfried Edita LANKAU.

Ref: MacDonald, Dictionary Canadian Artists (Bibliog.); David Rumball, "The Queen's Beasts" in HC, year 2011, p. 12, 21, 23-24; Anecdotes (Ottawa: Information Services, Office of the Secretary to the Governor General, 1972), p. 35-36. The author (Auguste Vachon) is also quoting from memory and from various documents in his possession. Art Price probably undertook many other heraldic projects that will come to light in various archives, particularly in the papers of Public Works.