La couleur sable est-elle issue d'une fourrure ?
Selon certains auteurs, la couleur héraldique
sable
provient de la terre et plus précisément d'un sable noir « très propre pour dérouiller les armes » [1]. Une autre hypothèse, beaucoup plus répandue, veut que le terme
sable
découle du mot latin médiéval
sabellum
apparenté à
sabol
en polonais et
sobol
en russe, signifiant zibeline (
Mustela
ou
Martes zibellina
). L'héraldiste Gheusi doute que
sable
soit d'origine slave, car au « Moyen Âge, les rapports de l'Occident avec la Russie étaient trop effacés ». Ce n'est pas un argument très convaincant, car des recherches plus récentes démontrent que la zibeline se vendait sur les marchés d'Europe au Moyen Âge [2]. Gheusi précise son hypothèse :
« Puisque une analogie presque constante nous permet de remarquer que les noms d'Émaux sont, en général, tirés de langues orientales, pourquoi ne pas admettre que le mot
sable
dérive du persan
zebad
, nom d'un animal musqué, assez souvent noir, congénère de l'
hermine
syrienne et qui a, chez nous, donné naissance aux termes
civette
et martre
zibeline
?»
Gheusi estime que le contact continu qui existait entre les croisés et les Sarrasins vient corroborer l'origine orientale du mot [3]. Mais aucune de ces conjectures ne fait l'unanimité :
« La théorie admise autrefois, selon laquelle ce terme [
sable
] viendrait du slave
sobol
nom de la zibeline, fourrure de couleur noire, est aujourd'hui combattue par certains philologues. En héraldique le mot n'apparaît pas avant le milieu du XIIIe siècle (auparavant on dit tout simplement
noir
), et jusqu'au début du siècle suivant il reste d'un emploi relativement rare (surtout en France, car en Angleterre il semble avoir été adopté plus tôt) [4]. »
Un auteur anglais (1739), note qu'un certain nombre de ses prédécesseurs ont refusé de classer
sable
parmi les couleurs, y voyant une fourrure à cause des croyances sur son origine. Mais il ne juge pas utile d'insister sur ce point, car tous les héraldistes de son époque sont d'accord qu'il s'agit d'une couleur [5].
En anglais, la zibeline se nomme
sable
, un mot devenu générique pour les fourrures noires. Ce sens existait également en vieux français où il désignait : « martre zibeline, martre noire; fourrure de martre, fourrure noire, fourrure, habit, vêtement fourré [6]. »
Connaîtrons-nous un jour avec certitude l'étymologie de la couleur
sable
? Quoiqu'il en soit, les symboles ne sont pas faits pour être enfermés dans des boîtes de conserve. Plus on s'interroge sur leur origine et signification, plus ils se renouvellent et demeurent expressifs.
​
Notes
[1] Marc de VULSON de LA COLOMBIÈRE,
La science héroïque traitant de la noblesse et de l'origine des armes
, 2e éd., Paris, Sébastien Mabre-Cramoisy, 1669, p. 36.
[2] Voir le site :
https://www.british-history.ac.uk/london-record-soc/vol38/pp57-77
.
[3] Pierre-Barthélemy GHEUSI
, Le Blason, théorie nouvelle de l'art héraldique …
, Paris, Maurice Darantière, 1933, p. 56-57.
[4]
Michel PASTOUREAU,
Traité d'héraldique
, 3e éd., Paris, Grands manuels Picard, 1997, p. 103.
[5] James COATS,
A new dictionary of heraldry ... containing all the rules of blazon ...
,
Londres, J. Osborn, 1739 p. 303.
[6] Alphonse BOS,
Glossaire de la langue d'oïl, (XIe-XIVe siècles) contenant les mots vieux-français hors d'usage ...
, Paris, J. Maisonneuve, 1891, p. 418.
​La zibeline dont la fourrure noire serait à l'origine de la couleur héraldique sable.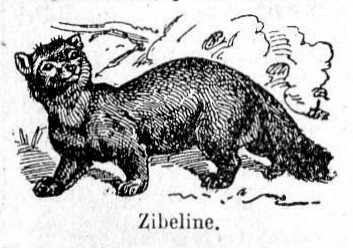 A sable whose black fur is believed to be the source of the heraldic colour sable.


Was the Colour Sable Derived from a Fur?
Some heraldists have claimed that the source of the heraldic colour
sable
is the earth, and more specifically a type of black sand which is very good to polish rusty weapons (
sable
meaning sand in French). A more widely accepted notion is that the term comes from the fur bearing animal, the sable (
Mustela
or
Martes zibellina
) named in Medieval Latin
sabellum
and rendered in Polish by
sabol
and in Russian by
sobol
. The heraldist Gheusi rejects the Slavic origin of
sable
because the contacts between Western Europe and Russia were sparse in the Middle Ages (see note 3 above). This argument is weak since more recent studies have shown that sable furs were sold in the markets of Medieval Europe (see note 2). Gheusi believes that
sable
comes from the Persian word
zebad
, a musky animal often black, related to the Syrian ermine, which gave rise to the French words
civette
(civet) and
zibeline
(sable). He maintains that this theory fits with the general belief that most of the names of heraldic tinctures are rooted in Middle Eastern languages and were picked up by Crusaders during their regular contacts with Saracens.
Pastoureau (note 4 above) informs us that the Slavic origin of
sable
has been disputed by philologists. He points out that, in France,
sable
began replacing
noir
in the second half of the thirteenth century and was not much used until the start of the next century. He further notes that
sable
appears to have been introduced somewhat earlier in England.
James Coats (note 5) observes that some of his predecessors did not view
sable
as a colour, rather as a heraldic fur because of its perceived origin. But he does not give the idea much weight because the heraldry experts of his time (1739) all treat
sable
as a colour in its classification and use.
In English, it is interesting that
sable
designates both a heraldic colour and a fur bearing animal and has become a generic term for black furs. This was true of old French where it meant a sable or black marten, a marten fur, a black fur, a fur in general or a furred garment (note 6 above).
Will we someday know with certainty the etymology of the colour
sable
? Be that as it may, symbols are not made to be locked in preserve jars. The more we wonder about their origin and meaning, the more they acquire new life and remain expressive.