An Armorial Bookplate with International Scope
The bookplate below is that of Charles S. Ogden of Pennsylvania who was appointed consul of the United States at Quebec City in November 1861 as the Civil War raged in his own country. According to William Ogden Wheeler,
The Ogden Family in America
(1907), p. 11: "The John Ogden granted these arms was the ancestor of David Ogden, the first in America (1682), of the Quaker Ogden Family." The inscription on the bookplate reads: "The Ogdens Arms Granted to John Ogden Esqr. By King Charles the Second For his Faithfull Services to his Unfortunate Father Charles the First." The "unfortunate father" is, of course, Charles I who was beheaded in 1649.
Crozier's General Armory
(New York, 1904) specifies that the arms are those of the Ogdens of Massachusetts, namely of John and Richard Ogden of Boston and gives the date 1640 (?). Burke's
General Armory
(1884) confirms that the arms were granted to John at the time of Charles II for his faithful services to Charles I. This would place the grant between 1649 and 1685. The description in heraldic terms from Burke's is as follows:
Arms -
Gyronny of eight Argent and Gules in dexter chief an oak branch fructed proper
. (Gyronny is normally of eight segments, which means that the number could have been left out.)
Crest -
An oak tree proper a lion rampant against it
. (No tincture is given for the lion.)
Motto -
Et si ostendo non jacto
. (And if I show I do not boast.)
The oak branch and tree refer to Oakden, another spelling of the name Ogden. Although the bookplate is that of Charles S. Ogden, its title "The Ogdens Arms" leads us to believe that it was designed to be used by all members of the family. Technically, in the English heraldic system, the arms without a mark of difference are transmitted to the eldest son, but often families use arms without concern for marks of difference also known as marks of cadency. This is true of many countries; Scotland being one of the few countries to strictly enforce its system of marks.
The bookplate has ancestral connections with England and the United States of America and, with Charles S. Ogden, it is part of the history of Canada and more especially of Québec City.
Bookplate from the papers of Charles S. Ogden, Library and Archives Canada, MG 24, C19.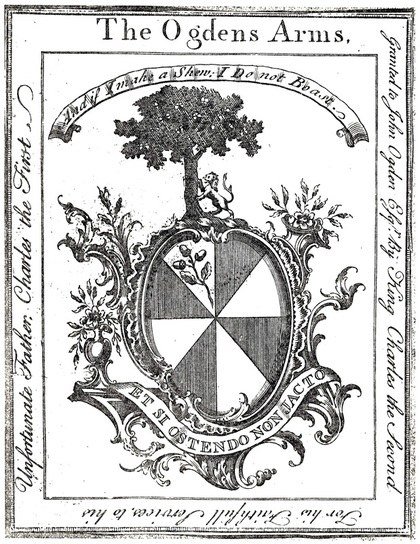 Ex-libris provenant des papiers de Charles S. Ogden, Bibliothèque et Archives Canada, MG 24, C19.
​

Un ex-libris d'intérêt international
L'ex-libris ci-dessus est celui de Charles S. Ogden de Pennsylvanie qui fut nommé consul des États-Unis à la ville Québec en novembre 1861, au moment même où la Guerre civile faisait rage dans son pays. L'inscription nous apprend ― ce qui est confirmé par d'autres sources ― que John Ogden avait reçu ces armoiries de Charles II ― donc entre 1649 et 1685 ― pour son dévouement envers son père, le malheureux Charles Ier, condamné et exécuté en 1649. David Ogden, l'un des descendants de John qui appartenait à une branche Quaker de la famille, émigra aux Etats-Unis en 1682. Plusieurs lignées des Ogden en Amérique portaient les mêmes armoiries. Elles se blasonnent comme suit :
Armes :
Gironné d'argent et de gueules, au canton dextre du chef une ramille de chêne au naturel.
(En blason français, le nombre de girons est normalement huit; on ne précise le nombre que s'il y en a plus ou moins que huit, e.g.
gironnée de dix pièces. Englanté
s'applique lorsque les glands sont d'un émail particulier, e.g.
une ramille de chêne de sinople englantée d'or
.) Ici, la ramille étant
au naturel
, l'artiste a le choix de rendre les feuilles vertes et les glands jaunes ou de colorier le tout vert.
Cimier :
Un lion s'appuyant sur un chêne au naturel.
(En blason français, un lion sans autre qualificatif est nécessairement
rampant
, ce qu'on ne précise pas. L'émail du lion n'est pas spécifié dans le blason anglais.)
Devise :
Et si ostendo non jacto
. (Si je me montre, je ne me vante pas.)
La ramille et le chêne renvoient à Oakden, une autre forme du nom Ogden,
oak
signifiant chêne en anglais. L'ex-libris ne précise pas de prénom, simplement qu'il s'agit des armoiries des Ogden comme si tous les membres de la famille pouvaient les porter. Le système héraldique anglais prévoit des brisures (marque particulière à chaque personne), mais elles sont souvent ignorées sans conséquence. L'Écosse est l'un des rares pays à maintenir une politique incontournable en ce qui concerne les brisures.
Par les ancêtres, l'ex-libris est lié à l'Angleterre et aux États-Unis d'Amérique. Avec Charles S. Ogden, il s'inscrit dans la petite histoire du Canada, celle de la ville de Québec en particulier.