La compagnie maritime Allan Line a-t-elle plagié le tricolore français?

N.B. Tous les sites web ont été visités le 4 août 2017.


​En 1819, le capitaine Alexander Allan met sur pied
une
compagnie de transport maritime
canado
-
écossaise
nommée Allan line et, en 1854, Hugh Allan, son second fils, fonde la Montreal Ocean Steamship Company à titre de filiale de la Allan Line. Deux ans plus tard, cette compagnie remporte le contrat pour transporter la poste entre l'Amérique du Nord et l'Angleterre.
Selon Benjamin Sulte, la Allan Line voguait sous les couleurs de la France : « Au printemps de 1854, un traité d'alliance fut signé entre la France et l'Angleterre; en même temps, la compagnie de paquebots Allan obtenait ses lettres patentes et choisissait pour marque de ses vaisseaux le pavillon tricolore posé chacune des trois couleurs à la hampe. » (Benjamin SULTE, « Le pavillon canadien » dans
Bulletin de la Société normande de Géographie
, t. 17, Rouen, Imprimerie de Espérance Cagniard, 1895, p. 310 :
http://gallica.bnf.fr/ark:/12148/bpt6k4154045/f331.image
). D'après cette description, les trois couleurs touchaient à la hampe, ce qui voudrait dire qu'elles étaient à l'horizontale, mais ce n'était pas le cas. Elles étaient disposées verticalement comme celles de la France, mais rouge, blanc et bleu sur le tricolore d'Allan Line et bleu, blanc et rouge sur celui de la France (comparer fig. 3 et fig. 4).
Les règles de l'héraldique interdissent le port d'armoiries identiques par deux chevaliers du fait que les figures sur le bouclier servent à les distinguer dans les tournois et sur les champs de bataille. Une confusion d'emblèmes pendant la guerre des Deux-Roses a des conséquences meurtrières. Cette guerre oppose la maison de Lancastre, dont l'insigne est la rose rouge, à la maison d'York identifiée par la rose blanche. À la bataille de Barnet qui se déroule dans la brume du matin du 14 avril 1471, Richard Neville, comte de Warwick, confond l'étoile blanche de son allié John de Vere, comte d'Oxford, avec la rose blanche au centre d'un soleil de son ennemi le roi Édouard IV de Lancastre. Comme résultat, les archers de Warwick décochent une pluie de flèches sur les soldats d'Oxford qui sont leurs compagnons d'armes. Les cas d'attaques sur des alliés par mégarde, y inclus entre navires alliés, sont une constante en temps de guerre (voir :
https://en.wikipedia.org/wiki/List_of_friendly_fire_incidents#Napoleonic_Wars
). On se demande alors pourquoi la compagnie de transport maritime Allan avait choisi un pavillon qui ressemble à s'y méprendre au tricolore de la France qui est aussi le pavillon de la marine nationale française?
L'identification en mer se complique du fait qu'il est permis d'immatriculer des bâtiments marchands ou de plaisance dans un pays étranger pour des raisons de coûts et de facilité. Ainsi, plusieurs navires nviguent sous un pavillon de complaisance, c'est-à-dire sous les couleurs d'un État autre que leur pays d'appartenance. En ce sens, le petit pays du Panama peut se vanter d'avoir sous son pavillon la plus grande flotte du monde, même si les navires appartiennent à de nombreux pays.
La France aurait-elle pu empêcher Allan Line d'arborer un pavillon qui ressemble à s'y méprendre à son tricolore? Il s'agit d'une question de compétence juridique, mais il est un fait que des situations analogues existent pour les drapeaux de plusieurs pays. La Côte d'Ivoire arbore les mêmes couleurs que l'Irlande avec des proportions différentes et l'ordre des couleurs inversé (fig. 5 et 6). On constate le même phénomène pour le Mali et la Guinée. Sauf pour les proportions et la nuance du bleu, le drapeau des Pays-Bas est le même que celui du Luxembourg (fig. 7 et 8). Le drapeau de l'île de Tenerife, un sautoir blanc sur bleu, est essentiellement le même que celui de l'Écosse. Le tricolore du Tchad est le même que la Roumanie sauf pour une légère nuance dans la teinte du bleu (fig. 9 et 10). Le drapeau de Monaco se confond avec celui de l'Indonésie sauf pour les proportions (fig. 11 et 12) et le drapeau de Pologne affiche les mêmes émaux à l'inverse, notamment blanc sur rouge au lieu de rouge sur blanc. Au Canada, le drapeau des Acadiens ne se différencie du tricolore de la France que par une étoile dorée au canton dextre du chef. Beaucoup d'autres drapeaux se ressemblent à s'y méprendre, par exemple ceux des Îles Cook, de l'Australie et de la Nouvelle-Zélande. Qu'un pays puisse porter une marque nationale qui a la même ou pratiquement la même composition qu'un autre pays contrevient à la raison d'être des emblèmes nationaux qui est d'identifier sans équivoque les différents pays. Et pourtant, il s'agit d'une réalité qui semble être généralement tolérée.
La notion de plagiat héraldique doit tenir compte de certaines exigences de l'art, par exemple le fait que les émaux héraldiques (couleurs et métaux) sont limités et se répètent d'une composition à l'autre. Par tradition, les lignes divisant les drapeaux des pays sont presque toutes horizontales, verticales ou obliques et, sauf de rares exceptions, droites, c'est-à-dire sans courbes, dentelures, créneaux ou autres formes que l'on retrouve souvent en héraldique. Vu les limites des couleurs et des divisions du champ et en raison du fait qu'un certain mimétisme s'installe dans l'art, des ressemblances confondantes deviennent presque inévitables. Pour des raisons historiques, plusieurs anciennes colonies britanniques ont conservé le Blue Ensign ou le Red Ensign avec une marque particulière sur le battant, de sorte que ces drapeaux sont difficiles à reconnaître dans le vent à une certaine distance. Parfois le symbolisme s'inspire de la géographie comme le bleu pour représenter la mer ou le ciel, un domaine où personne n'a de monopole. Dans plusieurs cas, les couleurs appartiennent à la tradition d'un pays depuis la nuit des temps, bien avant l'avènement du concept de propriété intellectuelle. Personne non plus n'a de droits réservés sur des figures récurrentes, par exemple les croix, les étoiles, les rectangles verticales ou horizontales qui figurent sur tant de drapeaux. Même pour deux compositions similaires, le symbolisme dans l'ensemble n'est pas le même. Un cas récent mettant en cause la ville de Tías sur l'île de Lanzarote et la ville de Cantabrie en Espagne illustre à quel point il peut être difficile de formuler une accusation de plagiat en matière d'héraldique (voir :
https://postureocantabro.com/misterio-del-escudo-tias-lanzarote-parecido-cantabria/
et
https://postureocantabro.com/misterio-del-escudo-de-tias-lanzarote-el-plagio/
- aller à « conclusión »).
Vu le nombre de pays dont les drapeaux se ressemblent au point d'être virtuellement identiques dans certains cas, il semble difficile d'accuser Allan Line de plagiat. La compagnie affichait les couleurs du tricolore français, mais dans un ordre inverse et, comme nous l'avons vu, le même phénomène d'inversion se retrouve dans les drapeaux de plusieurs pays (Irlande ˂ ˃ Côte d'Ivoire; Mali ˂ ˃ Guinée; Monaco et Indonésie ˂ ˃ Pologne) sans avoir soulevé, que je sache, d'accusation de plagiat. Il ne semble pas non plus exister un corpus de jurisprudence qui pourrait aider une cour de justice à se prononcer sur un cas de plagiat d'emblèmes à un niveau international.
Fig. 1. Le paquebot Royal Mail Ship (R.M.S.) Tunisian appartient à la flotte d'Allan Line et arbore les pavillons de la compagnie : une flamme rouge au-dessus d'un tricolore rouge, blanc, bleu. À droite, figure l'Union Jack, drapeau du Royaume-Uni; à gauche, le Blue Ensign canadien qui identifie les navires du gouvernement canadien. Les deux grands drapeaux représentent le trajet du paquebot entre le Grande-Bretagne et le Canada. Dans le bas s'étalent plusieurs pavillons dont des pavillons de signalisation. La construction du R.M.S. Tunisian remonte à 1899. La carte postale est datée du 26 avril 1912 par l'expéditeur.​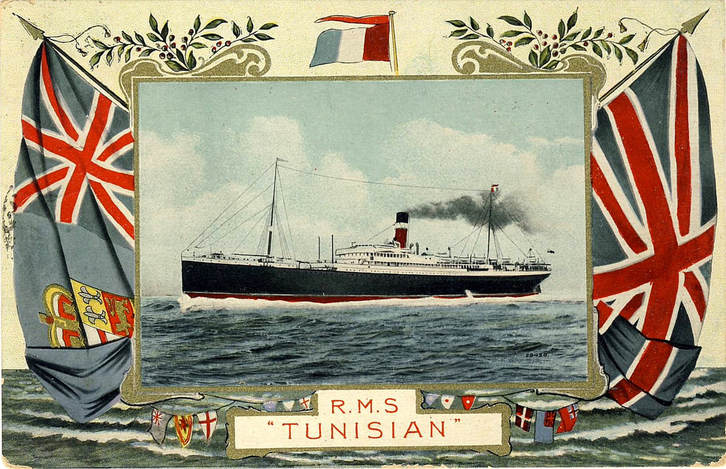 Fig. 1. The Royal Mail Ship (R.M.S.) Tunisian belonged to the Allan Line fleet and flew the flags of the company: a red pennant above a red, white and blue tricolour. On the right is seen the Union Flag or Jack which is the flag of the United Kingdom; on the left, appears the Canadian Blue Ensign flown by Canadian government ships. The two large flags indicate the ships route between Great Britain and Canada. At the bottom, are stringed together a variety of naval ensigns including signal flags. The R.M.S. Tunisian was built in 1899. The postcard is dated 26 April 1912 by the sender.
​

​Fig. 2. Le paquebot Royal Mail Ship (R.M.S.) Victorian vogue sous les couleurs de la Allan Line et le Red Ensign à la poupe. Lancé en 1904, ce navire demeura en service pendant presqu'un quart de siècle.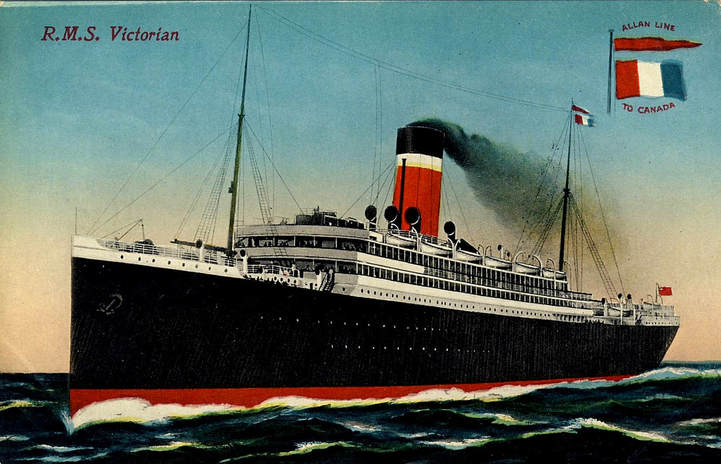 Fig. 2. The Royal Mail Ship (R.M.S.) Victorian flying the Allan Line house flag and the Red Ensign at the stern. The ship was launched in 1904 and was in service for almost a quarter of a century.
​

Fig. 3. Pavillon d'Allan Line : rouge, blanc, bleu.

Fig. 3. Allan Line house flag: red, white, blue.
​

Fig. 5. Drapeau d'Irlande : vert, blanc, orangé, proportions 1:2 .

Fig. 4. Tricolore de la France : bleu, blanc, rouge.

Fig. 4. Tricolour of France: blue, white, red.
​

Fig. 6. Drapeau de la Côte d'Ivoire : orangé, blanc, vert, proportions 2:3.
​Fig. 5. Flag of Ireland: green, white, orange, proportions 1:2.​
​
​

​Fig. 7. Drapeau des Pays-Bas : rouge, blanc, bleu, proportions 2:3.

Fig. 7. Flag of the Netherlands: red, white, blue, proportions 2:3.

Fig. 9. Roumanie, proportions 2:3.

​Fig. 9. Romania, proportions 2:3.

​Fig. 11. Monaco, proportions 4:5.

​Fig. 11. Monaco, proportions 4:5.
​


​Fig. 6. Flag of the Ivory Coast, orange, white, green, proportions 2:3.
​


​Fig. 8. Drapeau du Luxembourg : rouge, blanc, bleu clair, proportions 3:5.

Fig. 8. Flag of Luxembourg: red, white, light blue, proportions 3:5.

​Fig. 10. Tchad, proportions 2:3.

​Fig. 10. Chad, proportions 2:3.

​Fig. 12. Indonésie, proportions 3:5.


​​Fig. 12. Indonesia, proportions 3:5.
​

​Did the Shipping Company Allan Line Plagiarize the Tricolour of France?

N.B. All websites accessed on 4 August 2017.
​

​In 1819, Captain Alexander Allan founded Allan Line, a Scottish-Canadian shipping company and, in 1854, Hugh Allan, his second son, created the Montreal Ocean Steamship Company as a subsidiary of Allan Line. Two years later the company won the contract to transport mail between North America and England.
In an article proposing a distinct naval flag for Canada, the historian Benjamin Sulte implies that Allan Line flew the tricolour of France with the bands horizontal rather than vertical (see
http://gallica.bnf.fr/ark:/12148/bpt6k4154045/f330.image
, p.310). While it is true that the shipping company did use the French colours and, in fact, placed them vertically as those of France, they were not in the same order, Allan Line being red, white, blue and France blue, white, red (compare figs. 3 and 4).
The rules of heraldry prohibit two knights from bearing the same shield of arms to ensure recognition in tournaments and on battlefields. A confusion of emblems during the Wars of the Roses had fatal consequences. The opposing forces were the House of Lancaster identified by a red rose and the House of York distinguished by a white rose. During the Battle of Barnet fought in the early morning mist of 14 April 1471, Richard Neville, Earl of Warwick, confused the white star of his ally John de Vere, Earl of Oxford, with the white rose on a sun of his enemy Edward IV of Lancaster. This blunder caused Warwick's archers to shower Oxford's men with arrows. Cases of friendly fire, including between allied ships, is a constant in war (see
https://en.wikipedia.org/wiki/List_of_friendly_fire_incidents#Napoleonic_Wars
). This makes one wonder why the shipping company Allan Line chose as its house flag a tricolour closely resembling the national flag of France which is also that of the French Navy?
The question of the identification of ships at sea is further complicated by the fact that merchant ships and yachts can be registered in a foreign country for reasons of cost and convenience. As a result, a number of vessels fly the courtesy flag of a country other than the one to which they belong. This is why the small country of Panama could boast that the largest fleet in the world sails under its flag although the ships belong to a large number of countries.
Could France have prevented Allan Line from flying a naval flag that could easily be confused with its own national colours? This is a legal question, but it is a fact that we find a number of similar situations when we look at the national flags of the world. The Ivory Coast flies the same colours as Ireland with different proportions and the order of the colours reversed (figs. 5 and 6). The same situation exists for Mali and Guinea. Except for proportions and the tint of blue, the flag of the Netherlands is the same as that of Luxembourg (figs. 7 and 8). The flag of the island of Tenerife, a white saltire on blue, is basically the same as that of Scotland. The tricolour of Chad replicates that of Romania except for a slight variation in the blue tint (figs. 9 and 10). Monaco flies the same flag as Indonesia but in different proportions (figs. 11 and 12), and Poland repeats these same colours in reverse, white above red instead of red above white. In Canada the flag of the Acadians is differenced from the tricolour of France only by a gold star in canton. A surprising number of other flags can easily be confused, for example, that of the Cook Islands, Australia and New Zealand. The fact that several countries have adopted flags that are virtually identical or so close in composition as to be confused one with another defeats the essential purpose of national emblems which is to identify each country clearly. Yet it is a reality that apparently is tolerated.
The notion of heraldic plagiarism must take into consideration the nature of heraldic art where a limited number of tinctures (colours and metals) repeat themselves from one design to another. Also by tradition, the lines dividing national flags are mostly horizontal, vertical or oblique and are almost always straight, that is without curves, indentations, crenels or other forms as we generally find in heraldry. Because of the limitations of the colours and divisions, and the fact that there exists a degree of mimicking from one design to another, confusing resemblances are bound to arise. For historical reasons, a number of former British colonies use the Blue Ensign or Red Ensign with a distinctive mark in the fly, a situation which makes these flags difficult to distinguish one from another when seen at a certain distance in the wind. Symbolism can be inspired by geography as when blue is chosen to represent the sea or sky, an instance where no one can claim a monopoly. In many cases, the colours chosen belonged to the country's tradition long before the concept of intellectual property came into existence. No one either has reserved rights on recurrent figures such as crosses, stars, vertical or horizontal bands that are so frequent on flags. Even when a design is basically the same as another, the symbolism as a whole remains different. A recent case between the town of Tías on the Island of Lanzarote and the town of Cantabria in Spain demonstrates how difficult it can be to level charges of plagiarism in heraldic matters (see :
https://postureocantabro.com/misterio-del-escudo-tias-lanzarote-parecido-cantabria/
and
https://postureocantabro.com/misterio-del-escudo-de-tias-lanzarote-el-plagio/
- go to "conclusión").
Given the number of national flags that are similar and sometimes practically identical, it seems that it would be difficult to level charges of plagiarism against Allan Line whose flag featured the colours of France but in reverse order. The same arrangement, as we have seen, is found in the flags of several countries (Ireland ˂ ˃ Ivory Coast; Mali ˂ ˃ Guinea; Monaco and Indonesia ˂ ˃ Poland) without, as far as I know, having provoked accusations of plagiarism. Neither does there seem to exist a body of jurisprudence that could guide courts in passing judgement in cases where an accusation of plagiarism might arise with regard to emblems at an international level.