HALE, Reginald B.
(1911-1993)
Writer, journalist, editor, and illustrator born in Brisbane, Australia. He joined the RHSC in 1970; served as one of its directors and was a regular contributor to
Heraldry in Canada
. He was appointed first Master of the Roll of the RHSC in 1978. He was granted arms by the College of Arms in1978, which were registered in the Public Register of Arms of the CHA (Vol. II, p. 81) on March 15, 1992, and he was named a FRHSC in1981.
Ref
:
http://www.heraldry.ca/misc/bios/bio_hale.htm
; Campbell,
Index
(Bibliog.), p. 224-25; HC, Dec. 1978, p. 18.
HARRISON, Edith Elizabeth (1907-2001)

Born in London, England; came to Canada in 1933. Like so many artists she was drawn into the field of heraldry as part of a specific project: "She designed and carried out the scheme of heraldic decoration in Grant Hall, Queen's University, Kingston."

Ref: MacDonald, Dictionary Canadian Artists (Bibliog.).


HAY, George
(1822-1884)
Businessman, politician, and philanthropist, born in Scotland. "In the 1840s he moved to Bytown (Ottawa), where, after working as Thomas McKay's confidential clerk, he entered the hardware business. He quickly prospered and became active in community affairs. He would later claim to have designed the city's coat of arms and to have suggested the name Ottawa to replace Bytown."
Ref
:
http://www.biographi.ca/en/bio/hay_george_13E.html
, consulted 9 February 2014.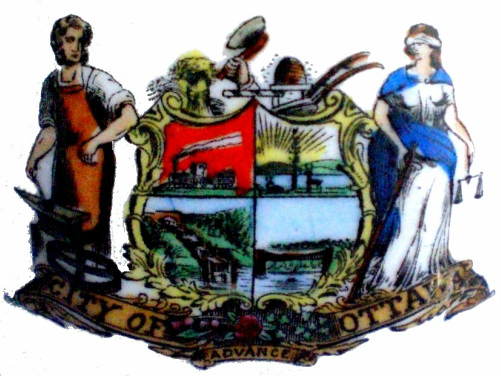 Old arms of Ottawa for which George Hay claims the design. On a jam pot by Willow Art China, dated 1925-30. A. & P. Vachon Collection, Canadian Museum of History.


---
HODGINS, George Sherwood (1858- ?)

Born in Toronto, 4th son of the educationalist and historian John George Hodgins.* Author of The Heraldry of Canada, reprinted from "Papers and Record," vol. 14 of the Ontario Historical Society (Toronto: Ontario Historical Society, 1916), p. 134-151. He also authored "National Flags of the United States" in the The Journal of American History, vol. 12, no. 2, 1918.

Ref: *For biography of father, see: Wallace and McKay, Macmillan Dictionary Canadian Biography (Bibliog.), p. 362-63.


HOWARD, Alfred Harold
(1854-1916)
Born in Liverpool, England; emigrated to Canada in 1876 and settled in Toronto. He was a graphic artist, calligrapher and decorative designer who illuminated manuscripts and designed bookplates, including heraldic designs and insignia.*
Ref
: *
http://www.gallery.ca/documents/content/ngc136.html
, consulted 18 April 2013; MacDonald,
Dictionary Canadian Artists
(Bibliog.); Harper,
Early Painters and Engravers
(Bibliog.)
,
p. 164.
HOWLEY, Michael
Francis (1843-1914)
Roman Catholic priest, archbishop, and author, born in St John's. "Michael Howley was a passionate Newfoundland patriot and saw endless potential for the island. He designed the coat of arms of the city of St John's, contributed to the contest to choose a national anthem, and wrote numerous articles praising Newfoundland for newspapers and journals around the world."
Ref
:
http://www.biographi.ca/en/bio/howley_michael_francis_14E.html
, consulted 9 February 2014.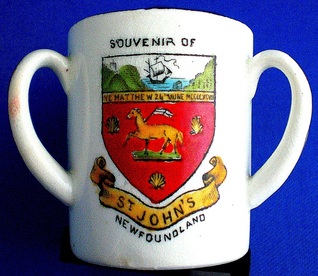 Arms of Saint John's, Newfoundland, designed by Michael Howley, on miniature loving cup by Fenton China, England, dated 1905-12. A & P. Vachon Collection, Canadian Museum of History.
---