Gare aux blasphémateurs !
Le drapeau nommé Carillon-Sacré-Cœur fut adopté par un comité de la ville de Québec en 1903 pour représenter la province de Québec. Il amalgame le pavillon bleu à croix blanche de la marine marchande française, le symbole du Sacré-Cœur environné de branches d'érable sur la croix et quatre fleurs de lis orientées vers le centre, calquées sur une bannière religieuse associée à la bataille de Carillon en 1758. Le Carillon-Sacré-Cœur joint la notion de patrie à celle de religion. On le voit ici au centre d'une vignette philatélique visant à combattre le blasphème. Depuis longtemps au Québec, l'image du Sacré-Cœur servait à cette fin. Vers 1918, l'Association catholique des voyageurs de commerce faisait imprimer plus de 400,000 images du Sacré-Cœur de Jésus avec l'inscription
Ne me blasphémez pas
. En décembre 1921, l'Association produisait un avis public intitulé
Gare aux blasphémateurs
. Elle affichait ce matériel publicitaire dans les lieux de travail et les endroits publics.
Sur la vignette, l'exhortation qui entoure le drapeau correspond aux propos d'un tract du père Alexandre Dugré, S.J.,
Contre le blasphème, tous!
(1922) qui condamne ce vice pour des raisons de foi, de courtoisie et de fierté patriotique. Le tract va jusqu'à recommander le congédiement des blasphémateurs et l'application des articles 238f et 239 du Code criminel de l'époque qui, semble-t-il, prévoient pour ce délit, soit une amendes de 50 $, soit une période d'emprisonnement de six mois, ou encore les deux peines. Ces articles visent les « vagabonds, libertins, désœuvrés, ou débauchés » qui troublent l'ordre public en faisant du tapage « en criant, en
jurant
, en chantant, en étant ivre » ou en incommodant les passants.
Le père Dugré estime que certains milieux de travail comme les camps de bûcherons, les chemins de fer et les usines favorisent l'éclosion du blasphème collectif. Il croit aussi que l'appauvrissement de la langue ― dû en partie à l'anglicisation ― et le manque de vocabulaire approprié accentuent chez certaines personnes la tendance à ponctuer leurs phrases de jurons. Ces impiétés expriment des émotions comme la surprise, l'émerveillement, l'indignation et la colère et aident à transmettre un message avec force. Par contre, « mieux vaut un anglicisme qu'un juron! ». L'ouvrage du père Dugré est moralisateur aussi bien d'un point de vue patriotique que religieux. Son appel à la fierté et la dignité, à la bonne conduite qui commande le respect évoque la devise de la Société Saint-Jean-Baptiste de Montréal « Rendre le peuple meilleur ».
​
​Vignette philatélique émise en 1949 par la Ligue du Sacré-Cœur d'Amos (Québec) en soutien à une campagne anti-blasphème intensive. Appartient à A. & P. Vachon.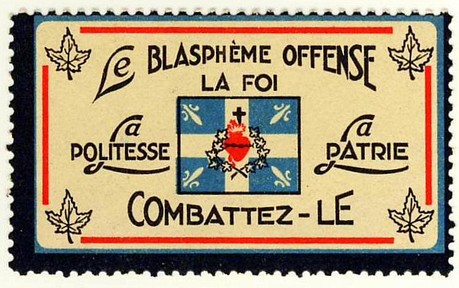 ​
Poster stamp issued in 1949 by the Sacred Heart League of Amos (Quebec) in aid of an intensive campaign against blasphemy. Property of A. & P. Vachon.
​

Blasphemers Beware!
The flag designated as the Carillon-Sacré-Cœur was adopted by a committee of the City of Quebec in 1903 to serve as the flag of the Province. It is a fusion of the blue flag with a white cross of the French Merchant Navy, a depiction of the Sacred Heart within branches of maple on the cross, and four fleurs-de-lis pointing inwards in the manner of a religious banner associated with the Battle of Carillon (Ticonderoga) in 1758. The Carillon-Sacré-Cœur combines the notion of the homeland with that of religion. It is seen here in the middle of a poster stamp directed against blasphemy. In the Province of Quebec, the image of the Sacred Heart had long served to combat profanity. Around 1918, the Association catholique des voyageurs de commerce (Catholic Association of commercial travellers) produced some 400, 000 images of the Sacred Heart of Jesus inscribed with the warning
Ne me blasphémez pas
(Do not take my name in vain) In December 1921, the association produced a public notice entitled
Gare aux blasphémateurs
(Blasphemers beware). This publicity was displayed in work areas and public places.
The admonition accompanying the flag on the stamp echoes a pamphlet by Father Alexander Dugré S.J. entitled
Contre le blasphème, tous!
(1922). It condemns blasphemy as a blight on faith, courtesy and patriotism. It goes so far as to recommend the dismissal of employees who are addicted to swearing and the enforcement of sections 238f et 239 of the Criminal Code of the time, which apparently made cursing punishable by a fine of $50, six months of incarceration, or both. The law was aimed at vagrants, libertines, debauchees, and the unemployed who disturbed the peace by loud shouting,
swearing
or singing; by being drunk or impeding passersby.
According to Father Dugré, certain occupations in lumber camps, on the railroad and in mills favoured the spread of profanities. He also sees this repugnant habit as being linked to poor language skills, a lack of appropriate vocabulary―partly due to Anglicisation― which leads certain individuals to punctuate their sentences with curse words. These serve to express emotions such as surprise, wonder, indignation or anger, or to instill more force into one's speech. But when French words fail, he judges it better to use an Anglicism than a curse word. Father Dugré adopts a moralising tone which applies just as much to patriotism as to religion. He preaches good behaviour which commands respect and attempts to promote sentiments of pride and dignity which are reminiscent of the motto of the Saint-Jean-Baptiste Society of Montreal "Rendre le peuple meilleur" (Make the people better).