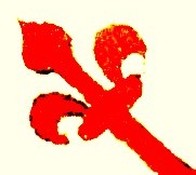 ---
La fleur de lis servait à identifier les biens de l'État. Une ordonnance de l'intendant Gilles Hocquart datée du 12 mai 1732 chargeait Joseph-Laurent Normandin et René Laganière de marquer de fleurs de lis « plaquées » sur des arbres le Domaine du roi qui était lié au poste de traite de Tadoussac. Le journal de Normandin confirme qu'il s'agissait d'une seule fleur de lis par arbre : « Suivant mes ordres j'ay avec le Sr Laganière pour l'exécution d'icelles fait quatre Fleurs de Lys sur quatre gros arbres … ». Une autre ordonnance d'Hocquart du 12 juillet 1734, article I, énumérait l'équipement qu'il fallait confectionner pour lutter contre les incendies. Les nouveaux seaux, haches, pelles, crochets, échelles et béliers, devaient tous être marqués d'une fleur de lis. La fleur de lis garantissait également l'authenticité de plusieurs façons. En Nouvelle-France, il circulait une abondance de piastres espagnoles (piastras), pièces d'argent de poids variable. La France avait d'abord voulu interdire cette monnaie de la colonie, mais comme il en circulait beaucoup, le Conseil souverain avait décidé, le 13 janvier 1683, de lui donner cours, mais de façon contrôlée. Les pièces les plus lourdes, valant quatre livre, étaient marquées d'une fleur de lis. Les plus légères étaient empreintes d'une combinaison de chiffres romains allant de I, II. III à IIII (IV), au-dessous ou au-dessus de la fleur de lis, pour désigner leur valeur réelle. Dans la même veine, plusieurs ordonnances des intendants et autres officiels enjoignaient aux marchands et habitants de faire « fleurdelyser » leurs poids et mesures, c'est-à-dire d'y faire apposer une fleur de lis garantissant leur exactitude. Les mesures incluaient l'aune (environ 119 cm), le minot (15,4 kilos) et demi-minot. Cependant une autre fleur de lis se retrouvait encore plus près du pouvoir; l'un des sceptres royaux arborait au sommet une seule fleur de lis.


L'assiette ci-dessous commémore la réunion des États généraux convoquée par Louis XVI et ouverte par lui le 5 mai 1789. Le roi est représenté par une seule fleur de lis sous la couronne royale, posée sur le croisement d'une crosse épiscopale (le clergé), d'une épée (la noblesse) et du manche d'une bèche dont le fer apparaît sous le listel (le tiers État ou peuple). Le VV ou W à l'intérieur du cercle de la couronne est une abréviation pour « Vive » et fait partie de l'inscription, c'est-à-dire : « Vive Le Roy Et les états Généreaux. » L'épellation « Généreaux » au lieu de « Généraux » apparaît sur d'autres assiettes. L'artiste a dessiné les manches de la crosse et de la bèche comme de simples lignes, ce qui n'est pas le cas sur d'autres assiettes de la même série. Faïence de Nevers, XVIIIe siècle, appartient à A. & P. Vachon.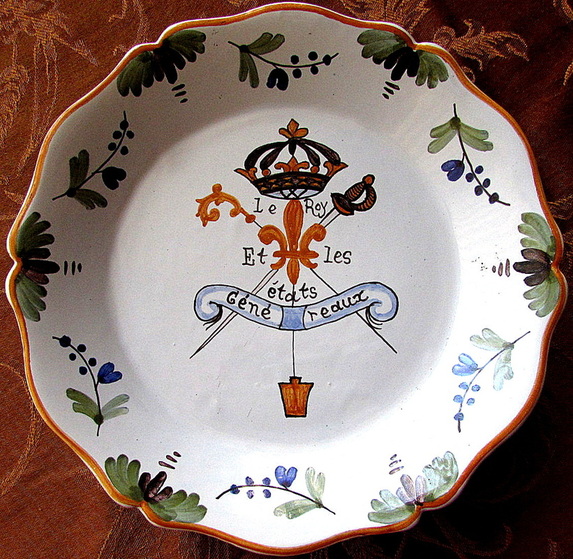 The plate above commemorates the assembly of the Estates-General convened by Louis XVI and opened by him on 5 May 1789. The king is represented by a single fleur-de-lis under the royal crown, placed over the crossing point of an episcopal crosier (the clergy), a sword (the nobility), and the handle of a spade with its blade under the scroll (the people or third estate). The VV or W inside the circlet of the crown is an abbreviation for "Vive" (Long live) and is part of the inscription, namely: "Vive Le Roy Et les états Généreaux." The spelling "Généreaux" instead of "Généraux" appears on other plates. The artist has drawn the handles of both the crosier and spade as lines, which is not the case for other plates in the same series. Nevers faience, eighteenth century, property of A. & P. Vachon.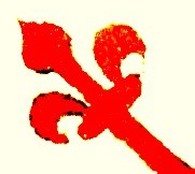 ---
The fleur-de-lis served to identify possessions of state. An ordinance of Intendant Gilles Hocquart, dated 12 May 1732, mandated Joseph-Laurent Normandin and René Laganière to mark the boundaries of the Domaine du Roi (King's Domain) which was attached to the trading post of Tadoussac. The journal of Normandin confirms that each tree was marked by a single fleur-de-lis. Another ordinance by Hocquart, on 12 July 1734, article I, lists everything needed to fight fires. All the new pails, axes, shovels, grappling hooks, ladders and battering rams were to be marked with a fleur-de-lis. The fleur-de-lis was also a guarantee of true value in other ways. In New France, many Spanish piastras, silver coins, were used as currency. At first France had sought to exclude these coins which came in various weights. But given the quantity already in circulation, the Conseil Souverain decided, on 13 January 1683, to give them legal tender in a controlled way. The heavier ones, worth four livres, were stamped with a fleur-de-lis. The lighter ones were impressed below and above the fleur-de-lis with a combination of Roman numerals from I, II. III to IIII (IV), depending on their real value. Similarly ordinances from intendants and other officials directed merchants and inhabitants to have their weights and measures marked with a fleur-de-lis to confirm their accuracy. The measures were the aune (about 119 cm), the minot (bushel of 15.4 kilos) and the half-minot. But another fleur-de-lis was much closer to sovereign power; one of the royal sceptres of France was topped by a single fleur-de-lis.